As a smaller brand that relies primarily on affiliate marketing, we never worried that much about reputation management. Our affiliates did the hard work for us and shared some amazing success stories of our products.
Review platforms such as Trustpilot were always an afterthought. We knew our competitors were placing fake reviews there, and it was hard to get them removed, so we relied on affiliates outranking these review platforms in Google.
In recent years Google started to favor review platforms over the independent reviews of our affiliates, the rankings of these platforms were slowly improving. After years of ignoring review platforms because of spam, it came back to haunt us, and a sea of fake reviews was starting to influence potential customers.
From Passive To Active
A couple of years ago, for our biggest brand CrazyBulk, we decided we couldn't sit back anymore. We had to collect real customer reviews on an independent platform to add to our growing brand's legitimacy.
Introducing FeeFo, our team members had worked with the platform before and knew it was affordable whilst also doing a great job of improving a website's conversion rate.
We were surprised by our customers' positive response, and to this day, we maintain a 4.4/5 rating on FeeFo.

We featured this rating directly on our website and saw a great conversion uplift.
Why not take a look at some of our amazing FeeFo reviews here.
One problem remained – FeeFo wasn't ranking in Google, so people searching for "CrazyBulk reviews" could still find fake reviews rather than our customer's FeeFo reviews.
Reviewing The Problem
We turned to our favorite SEO tool to see what was ranking for our brands' review terms – Ahrefs.

Having reviewed the search results pages (SERPS) in a variety of different countries, we found two that kept coming up:
Trustpilot
BBB
We knew simply by actively engaging with a review platform and managing it, we could turn our score around. We started work with the easiest to work with Trustpilot to gather real customer feedback and leave the fake reviews in the dust.
Every month Trustpilot had over 1,000 potential customers seeing our low score and primarily fake reviews. Imagine if half of those people decided they weren't buying; that's 500 customers lost every month.
This problem was potentially costing us $50,000 every single month.
We knew we couldn't wait and needed to take action, fast!
Our Journey With Trustpilot
Onboarding with Trustpilot was a breeze. They made the whole thing easy. Within a matter of weeks, we had started gathering feedback from CrazyBulk customers.
We started with a score of a little over 1*. We now have a score of 4.2 and are working to improve it further. You can see our progress and reviews here.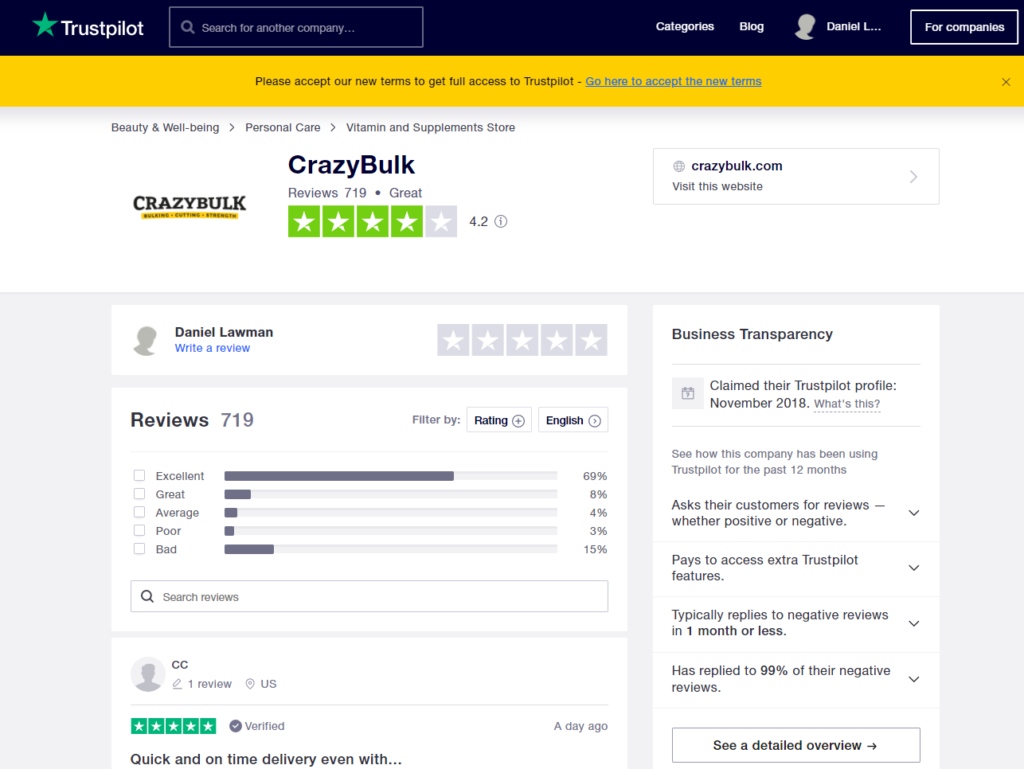 Now that verified customer reviews dominate Trustpilot, it becomes really beneficial. Not only does the world see some great stories from our customers, but we can also use the negative feedback to improve our customer service.
We're already taking action to review customers' pain points and improve the experience with CrazyBulk. Our star rating becomes a new measuring stick to determine the success of the brand.
What's Next
Our work isn't over; there are still platforms that fake and negative reviews still dominate. We'll continue to encourage legitimate customers to leave feedback on various platforms and manage our reputation everywhere online.
We also plan on expanding our reputation management activities to cover other brands, starting with our larger brands.
The FanFuel brand team's focus is on ensuring the highest possible conversion rates for our affiliates. This means creating the best possible experience for our customers. That's why we measure our success on the last-touch and continue to expand our last-touch marketing activities.